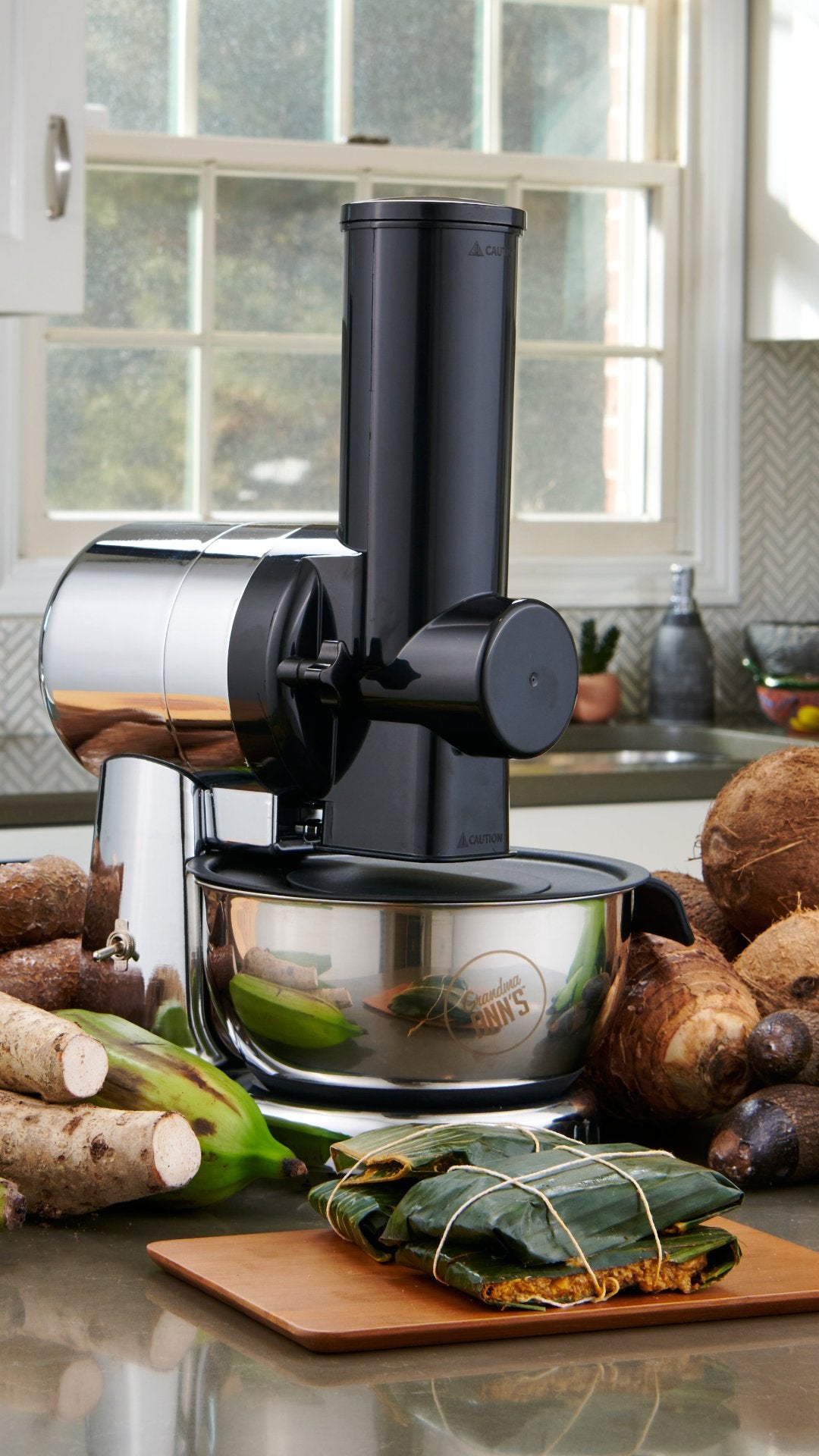 Grate More with Grandma
The all new and improved Grandma Ann's Electric Grater will help you make even more of your favorite dishes.
Grating is a cinch with this heavy duty electric grater. With only two pieces to wash, it's easy to clean and even easier to assemble. It's super versatile when it comes to grating — grate 10 lbs of potatoes or cassava or yautia in less than 2 minutes. Grates coconut, green bananas, hard cheese, and horseradish. Durable and beautiful, this grater is certainly an heirloom to pass down to your kids or grandkids.
Buy Now
See How Quickly You can Grate with a Grandma Ann's Electric Grater
An electric grater from Grandma Ann's will grate product of cassava, yuca, bananas, coconuts, spuds and more in minutes. Speed is the trick to making your dishes better.
Features of the Grandma Ann's Electric Grater
Each Grandma Electric Grater is tested and comes ready to Grate.
Making Pasteles for 30 Years
I've been making pasteles for over 30 years and was always hesitant on purchasing an electric grater since there's a certain texture you get when hand grating the bananas and have heard stories from other people how their electric graters...

— Nicole
20 Pounds in 10 Minutes
The machine worked exceptionally well in grating yuca. An incredible time saver! I was able to grate 20 lbs of yuca in less than 10 minutes. It may be a bit expensive but definitely worth it if you plan on...

— Miguel
Great Machine!
I love it, very easy to use and clean. Great machine does the job well. Best gift I gave to myself no more hand grating. Loves that comes with a bowl. Will recommend to my friends.

— Beatrice
Pull the Trigger
I had been considering a potato grinder for about 2 years and I finally decided to pull the trigger and ordered Grandma Ann's as I thought that the product looked well made compared to the others I have found online....

— Leon
Take Turns Hand Grating
We just love the Grandma Anns electric grater. I takes the muscle out of making Kugelis for sure. Usually me & my wife take turns hand grating and it takes much longer. You get a few pieces that you have...

— Robert
Have a favorite recipe or story about cooking with your grandma?